Erbazul: Agricamping on the hills in Sanremo
The perfect camping holiday in full contact with nature.
AgriCampeggio Erbazul: Camping in Liguria
Glamping farm holidays: the perfect mix of adventure and relaxation in Liguria
The Agriturismo (Agricampeggio) consists of 14 pitches, each with a view of the sea, aromatic herbs and lavender that surround them. Perfect for a romantic getaway, as a base for a sea view trek, or for a relaxing outing with friends.
Erbazul is not a Tourist Village, and neither does it want to be.
It is an aromatic campsite aimed at travellers who want unusual accommodation as an alternative tourism.
Our structure, in fact, will allow you to immerse yourself in the holiday in sweetness, comfort and tranquility immersed in the smells of nature and aromatic herbs.
It is a place out of time.
Sea stories to tell.
Sea stories to listen to.
Campsite with equipped pitches overlooking the sea
Each pitch has a wonderful sea view, and space, physical and mental, to be able to relax and listen to the waves of the sea. Adequate distance between the tents (minimum 5 meters) will ensure privacy and tranquility.
We provide Tent and Equipment for your campsite
On request Erbazul can provide the tent with its set-up, between these two choices:


Cabanas do Mar, comfortable tent (diameter 3 meters, height 1.80): each surrounded by Lavender, inside they have everything you need to welcome and pamper the traveler such as aromatic herbs, flowers, books, ethnic furniture; comfortable hammocks or wooden sofas to laze around looking at the sea.
Cabanas do Mar Especìal, a tent with a diameter of 4 meters, an internal height of 2.5 meters, aromatic herbs, books and art inside;
Private garden, table and chairs, and a wonderful typical Ligurian boat where you can sunbathe, look at the stars and listen to the sea;
Baggage assistance at the check out;
Trekking tent, normal camping tent, with mattress inside. For 2 or 4 seats.
In your Cabanas, a bouquet of aromatic herbs for you, included in the price, to create a delicious scent in your tent, to take home or on your trip when you leave. On your request it is possible to customize the bouquet among the following herbs: Lavender, Thyme, Rsomarino, Marjoram, Oregano, Savory, Calendula, Helichrysum, Mint, Sage.
Boat in the garden of the Cabanas do Mar Especìal
Spicy pitches for tents (not provided) up to 4 people;

the Big Picht, for groups, with an area of about 60 square meters of pure physical and mental space.

Pitches for Camper / Van not available.
Agricamping with toilets


At guests' disposal there are 3 bathrooms, 3 showers with sinks, 3 washbasins.

Agricamping with equipped kitchen


kitchen equipped with fire, fridge, tables and chairs.
Campsite suitable for bikers
AgriCamping Erbazul is Bike Friendly: bikers are welcome, they can take their bikes to a special covered place, or close to their tents, and have a toolbox available for any repairs.
Each of our guests will be provided with the Enjoy Life Erbazul's Map, a map of our area with the best destinations, among the most requested ever, such as where you can enjoy a delicious focaccia, or where you can find an excellent fish trattoria, or taste a good glass of wine.
Erbazul is not just camping ...
The entire structure is available for bachelor party and birthday parties (excluding catering), yoga retreats.
Yoga and Meditation
Yoga schools are welcome, in fact there is a dedicated area of ​​about 100 square meters to organize collective Yoga courses, seating 20 people.
Find out more about the honeymoon in a tent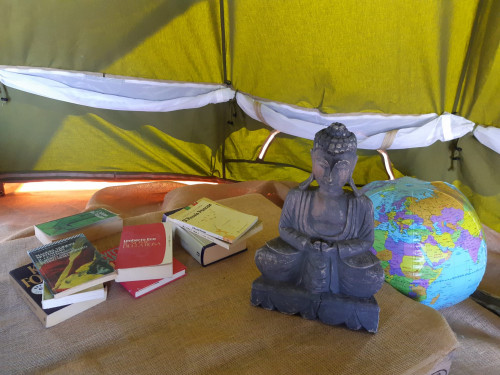 Erbazul logistic information
To get there on foot from the center of Sanremo (ecological choice), take the bike path for about 2 km, then take Salita Poggio (about 1.8 km), arrived in Poggio, take Via Duca d'Aosta to number 169 and you have arrived.
Check in time: 4pm/8pm; Check out 11am.
The public parking, like the bus stop, is located 100 m from Erbazul, across a typical Ligurian road, with a 30% gradient.
Attention: the car park is public, about 100 meters away. If it is not found, look for it towards the village of Poggio or towards the Sanctuary of the Madonna della Guardia, both about 1 km away.
You can go for a walk, and call us for check in-check out baggage assistance.
To get to Erbazul by Bus, you can see the timetables of the Poggio di Sanremo Line on the website rivieratrasporti.it

We are in fact 500m from Poggio, at the end of the last climb of the Milan-Sanremo cycling race. From here it is possible to connect to various bike and trekking routes, to reach the sea or various inland towns.
The sea, its splendid beaches and the cycle path can be reached after about 1.3 km of the Trekking route (about 30% of descent).

Starting from us you can do various trekking or bike routes, reaching fascinating places from a naturalistic, artistic and cultural point of view, such as:


Bussana Vecchia (6 km)
Taggia (9 km)
Sanremo and its historic center (3 km)
Bordighera (13 km)
Apricale (28 km)
Dolceacqua (24 km)
Nice is 34 mi away.